Grief Support Mailings
Spanish version
The Grief Support Mailings, Spanish version, is a comprehensive bereavement follow-up program for organizations. The Mailings come with a User Manual and an accompanying USB flash drive that contain a series of 12 compassionate Letters and a single-page Grief Educational Enclosure to accompany each Letter. An additional Enclosure, "Holiday Bill of Rights," is included to place in the October or November mailing.

Grief Support Mailings printed on your letterhead accompanied by an Educational Enclosure each month
The Letters and Grief Educational Enclosures are designed for sending to the bereaved at monthly intervals throughout the first year, although they can be sent less frequently, such as every other month or quarterly. They are formatted for printing on agency letterhead stationary, giving the sending institution consistent visibility, and the recipients of the mailings name recognition and loyalty.

Letters and Educational Enclosures for each month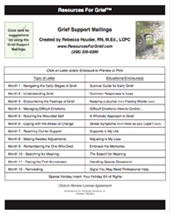 Sample Mailings Menu
The Grief Support Mailings, Spanish version, is a very economical, high quality bereavement resource. The purchasing organization is free to make as many copies of the mailings as needed for bereavement follow-up. In addition, the Educational Enclosures can be used for other purposes, including conversation starters on home visits or as handouts in grief support groups.
The Grief Support Mailings, Spanish version, have been written with respect and sensitivity for religious, cultural, age, and gender differences.
Trusted Translations, a leader in Spanish translations, translated the Grief Support Mailings. Spanish-speaking clients of Resources for Grief then vigorously reviewed the mailings. You can use them with confidence!
Order the Grief Support Mailings on USB Flash Drive--Spanish
The Grief Support Mailings, Spanish version, is $225. For an additional $75, receive the English version as well.
Organizations with multiple office locations: Each Grief Support Mailings ordered is designed for use by a single office location. Additional copies can be purchased for other offices of the same organization at a reduced rate. Contact us for more information.